bogotrax.org Festival
2009-02-22
From 12. to 22. february 2009
Bogotrax is an independent and alternative festival. taking place in Bogota, the capital of Colombia, South America. Its a10 day non-stop experience with concerts, workshops and conferencesgoing on during the day and events + outdoor
happening at night.
We are participating to the festival with a video live mix made on "the Tunk" music.
Here you see minutes 10-20 of the live mix
You can
watch the full 45min live track
as video on demand
in the compilation "
Mixes audio y video
" at
www.x-tractor.org
www.bogotrax.org
or at our youtube channel:
youtube.com/headsquatter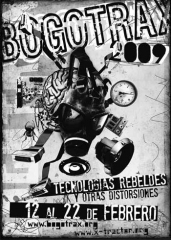 Flash Video Stream Player starting, if Plugin installed..