Plantanmptree.org
2009-01-09
 Plantanmptree.org
Video Alice Bognetti
Music Konik Polny
.:Joint Operation Records:.
MKZWO
Kids Saving The Rainforest
IHTEC
presents
a Benefit Project of
Fernando Poo
Plant an mptree!!!
Mp3 and digital art for no profit!
OUT NOW!!!
Buy from beat digital...
Buy from Juno...
Buy from Finetunes...
Buy from Itune...
artists:
Track list  & links artisti
track 8) Rabix
music from Fernando Poo
art work Alice Bognetti
http://www.headsquatter.net
http://www.ctrlzproduktions.net
" Dear friends,
At first, let me introduce myself: My name is Fernando Poo, a Russian musician based on Berlin.
I would like to ask your collaboration in a benefit project called "Plant an mptree".
 www.plantanmptree.org
Every day I note that our society is involved in destroying and polluting the nature.
And only few people are trying to stop this abuse, so I want try to send a message to the people and give my help to try to do something to save our planet, and the only way that I can use to do it, is my music...
I contacted the non-profit organization Kids Saving the Rainforest (located in Manuel Antonio, Costa Rica) who are trying to collect money to save plants and animals in the Rainforest.
I thought that I could help them with my music and together with 23 visual artists (who are drawing the covers, a different one for each track). I released 23 tracks in mp3 that the people can download from many different internet shops that are collaborating with us in this project.
I want to release only in Digital, so that no trees or plastic is use to produce it. 
Every track costs 1€ from this money 30 cents (10 cents from me, 10 cents from the JopRec, 10 cents from the MKTWO) will be transferred in Costa Rica to support the K.S.T.R.
I received a letter from Janine Licare, K.S.T.R. co-founder  and spokesperson that says:
"We started our organization so that we could assure people that their money goes where they want it to, and do not get lost paying for administrative costs. All funds received through K.S.R.F. go to 'The Rainforest Foundation', a 501 (c) (3) non-profit organization dedicated to the
Preservation of Costa Rica's Rainforests! ".
And for me this is very important, I prefer to work with a little organization that works directly in the territory and not from an office in Berlin or New York!!!
The "plant an mptree" project is also sponsored by:
 Kids Saving the Rainforest
(KSTR) is a non-profit organization  founded in Manuel Antonio, Costa Rica by two school children, Janine Licare and Aislin Livingstone, and Janine's mother, Jennifer Rice. In 1998, the girls, at merely 9 ½ years old, sold painted rocks at a roadside table with the hopes of raising enough money to save the rainforests and Titi monkeys of the Manuel Antonio area.
Since 1999, KSTR has expanded its mission. Through a number of projects, we hope to educate children about the rainforest, preserve local rainforest land, rehabilitate baby animals, and insure the survival of the endangered Titi monkeys.
In 1999 the girls' idea took off when they opened the Kids Saving the Rainforest store-originally located in the corner of the restaurant at Hotel Mono Azul. Today, the successful store not only sells the children's artwork, but also the work of local artists and craftspeople, KSTR merchandise, and serves as an information source about the organization and environmental issues. KSTR receives 100% of the profits from all of the sales.
http://www.kidssavingtherainforest.org/
Julia Morton-Marr,
President of the International Holistic Tourism Education Centre - IHTEC
UNESCO
IHTEC is dedicated to developing Global Sustainability Education programs that educate young people through "Tourism as a Vital Force for Peace".
IHTEC responds to the urgencies of a world faced with escalating violence, widespread deprivation and environmental degradation.
IHTEC is supporting Global Sustainability Education programs in classrooms, schools and communities in 50 locations world-wide, assisting educators in conflict resolution and reducing vandalism.
Equally committed to environmental sustainability, IHTEC stimulates eco-restoration plans and programs by supporting heritage sites, marine environments and walking trails. Through persistent leadership and encouragement, IHTEC has developed a world-wide network of associates, linked by Web-site and electronic messaging, and nurtured with locally prepared resources where possible.
Innovative and realistic, IHTEC has become an acclaimed vehicle of peace-building and protecting the environment within communities around the world.
  http://www.ihtec.org/
The MKZWO
Label and distribution from Berlin.
www.mkzwo.de
The JopRec
Electronic independent label from Berlin.
www.joprec.org
If you are interested in helping the project, you could do it in 2 different ways:
1) Sponsor by downloading the tracks
Transfer 10 cents together with Me, the record-label JopRec and the label/distribution in Berlin  MKTWO, who are arranging and managing all the aspects, so that we all together could make something concrete against the developing destroy in Costa Rica and support the project promoting the cause through your channels and contacts.
We are considering your help adding your homepage address or/and contact on our URLs, newsletter or press correlated with the project.
2) Supporter
We need people that likes our project and want to help us to promote it through all the possible channels.
It's a benefit project, we can't offer money, but your support will be very big help for us and for the organization that we are trying to collect money for!!!
We will include your name, your logo and the link to your web page on the website that we have created for cause and in all of the newsletters and press releases.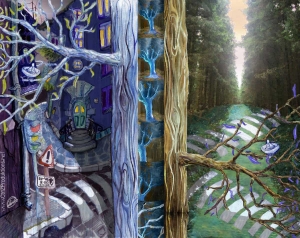 Flash Video Stream Player starting, if Plugin installed..